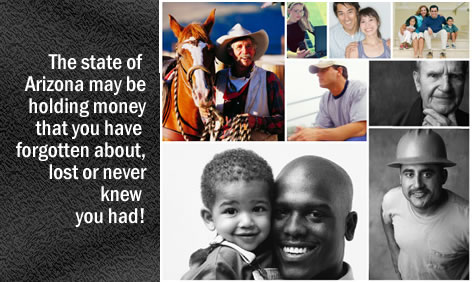 Have you forgotten about a checking or savings account, an old uncashed check, stock, safe deposit box, etc.? Arizona is considered a "custodial state" and holds such property on behalf of the owners of lost or abandoned property. Unclaimed property is reported to Arizona when the owner's last known address is located in the state. The Arizona Department of Revenue is responsible for finding owners of unclaimed intangible personal property turned over to the state. 

The Arizona Department of Revenue handles the state's unclaimed property, which includes such items as money, uncashed checks, drafts, state warrants, uncashed payroll checks, interest dividends or income, savings and checking accounts, safe deposit box contents, credit balances, customer overpayments, unidentified remittances and securities.

Forms
Download Arizona Unclaimed Property forms. Forms requires Adobe Acrobat Reader to view..

Filing a Claim
Find additional information on how to file a claim for Unclaimed Property.

Evidence
Find additional information on the types of required evidence to submit with your claim form.

Property Information
Find out how to obtain more information about a property.